I recently received the Successful Homeschooling Made Easy Course by Successful Homeschooling Made Easy to review. I assumed, since I have been homeschooling my kiddos for ten years now, that this would be a fairly simple review…I honestly thought I could just skim through and share with you all of the good points in this course….ha ha ha!
The Successful Homeschooling Made Easy Course isn't just for new homeschoolers, as I quickly discovered reading through the first lesson. It is also for the experienced homeschooler who might be heading in to burn out or just in a planning & learning slump (yes, those happen…sometimes too often).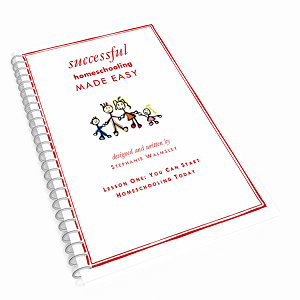 The Successful Homeschooling Made Easy Course was created by Stephanie Walmsley, a homeschooling mama since 1985!  It is a reasonably priced course at just $48 (or $10 per month).
There are 26 lessons that cover a plethora of homeschooling topics from setting up a schedule to keeping records to teaching math to getting housework done to just learning to enjoy the journey! During this course you will learn how to balance homeschooling, housework and family life.
For the purpose of this review, I received the first four lessons all at once and then received a new lesson each week thereafter. The lessons are sent via email in PDF format. The lessons, typically 7 – 25 pages, are not overwhelmingly lengthy, which is great for on-the-go homeschooling mama's.  I downloaded and printed each lesson and put them in to a 3-ring binder. Having the lessons printed out and in the binder made it super easy & convenient for reading. I am the kind of person who likes to know what is in store before jumping in to something. So, I began this review by just simply reading through the first four lessons.
Reading through the first four lessons, I began to really start thinking about our homeschooling. I have been feeling, for some time now, that something is missing or lacking in our homeschooling.  I have had a nagging feeling in my gut that something needed to change, and that something is the need for more structure and a schedule….this has been a very hard realization for me because I tend to seriously fight the confinement of schedules.
So, I really started to dig deep in to the first lesson. Lesson 1: You Can Start Homeschooling Today….why on earth would that lesson grab me, I have been homeschooling for 10 years, I am not just starting out. Lesson one goes right in to getting an 8-week schedule worked out for your homeschooling. The step-by-step process to create a schedule that will work for us has been extremely helpful and not painful or confining at all. We have only been able to very loosely stick to our new homeschool schedule due to "unplanned" circumstances that have happened in the past few weeks, but I am optimistic about having a schedule….and that's a step in the right direction!
These first few lessons of this course, so far, have really been a great tool to re-evaluate our homeschooling. I am eager to finish the rest of the course, and work through the assignments for each lesson.
Don't forget to stop by to see what my fellow Crew Mates have to say about Successful Homeschooling Made Easy!