Being a member of the TOS Review Crew this year has really been a blessing to my family. It has, so far, given us the opportunities to review several great homeschool curriculum products that we might not otherwise have ever known about. Before this review I was not  familiar with the Once-a-Week Unit Studies from Homeschool Legacy.

For this review, TOS Crew Members were given a choice of which unit study from Homeschool Legacy that we would like to receive. Homeschool Legacy has a variety of unit study topics to choose from, I chose the 
Birds of a Feather 4 week Unit Study
. These unit studies would be a great addition to your current curriculum, but also, are comprehensive enough to use as your main educational source for history and science.
Homeschool Legacy provides biblically centered educational materials with lots of hands-on activities. The Once-a-Week Unit Studies were created with busy homeschool parents in mind. If you are looking to add a little something fun or just need a change, there is not a lot of preparation and planning time necessary to add a Once-a-Week Unit Study in to your all ready busy week.
Homeschool Legacy's Once-a-Week Unit Studies are also perfect for students that are in Boy Scouts or American Heritage Girls. Both groups can fulfill merit badge requirements while completing unit studies, such as, BSA Bird Study and AHG Our Feathered Friends Badge with the Birds of a Feather Unit or BSA Indian Lore or AHG Native American Merit Badge with the Native America unit….and those are just to name a few of them!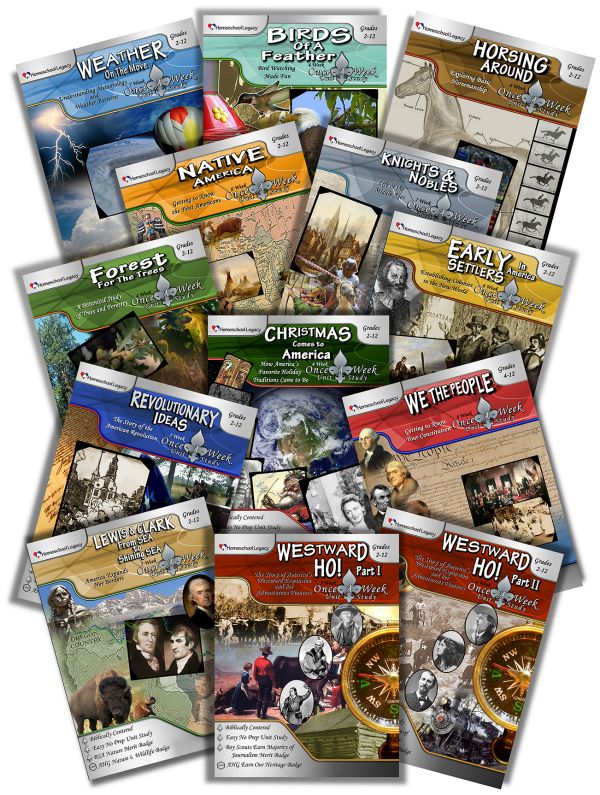 I chose the
Birds of a Feather 4 Week Unit Study
 because both, Eli and Everett, are always watching the birds in our backyard and talking about birds, so I thought it would be a perfect fit. Plus, we always enjoy a good nature study. And although, Birds of a Feather is recommended for Grades 2-12, it was easily adaptable to use with Everett who is Kindergarten level.
We received one digital download ($14.00) of Birds of A Feather but there is also a physical book ($18.95) available as well.  For me, I feel that the cost is a little steep, particularly the digital download especially if you print it out at home and factor in the cost of your paper and printer ink that is used.
We really enjoyed our study time using Birds of a Feather. For me, I appreciated that each lesson was laid out with great detail of the supplies that would be needed and a list of books that you could use. We didn't use very many of the recommended books for this particular unit study, mainly because our library is fairly small and doesn't carry a very good selection but we had several books about birds in our home library that we used.
The boys particularly enjoyed setting up our bird feeding station. We hung our bird feeders on a tree just outside our school area window so that we could observe our birdy friends without disturbing them.
I really appreciated that the lessons were flexible enough to be done, either once a week as they were created, or I could break them down in to small daily lessons to spread a unit out for an entire week. You can check out a 
sample week
 of Birds of a Feather to see how flexible, fun, and full of learning these unit studies are.
You can follow Homeschool Legacy in social media:
Facebook
Pinterest
Twitter
Be sure to read more about Homeschool Legacy from my Review Crew friends